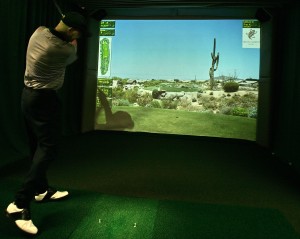 The Greenwich Golf Fitting Studio is amongst the elite in the field of club fitting and club making.  One of only 32 Callaway Proponent accounts (10 with access to tour heads), one of only 22 Taylor Made head accounts, a handful of certified PXG fitters/builders, we combine the rare combination of club fitting and club making done by the same person on site.  Fittings are not done by outsourced software and built off site.  Each club is fitted and meticulously built by one person who has the experience of having served over 10,000 clients and each year continues to invest in learning which products and technology will best help his clients.
The Greenwich Golf Fitting Studio has been providing custom golf solutions since 1994. We moved into our current location in April of 1999 to better serve our clientele. Our state of the art fitting facility features the Flightscope Launch Monitor and High Definition (HD) Golf Simulator. The Flightscope X3 (with Fusion Tracking) and HD Golf Simulator together capture critical clubfitting data while providing accurate depiction of ball flight.
The HD infrared Club Capture Module acquires club path and face angle data data. Ball data (speed, launch, azimuth) are captured by two additional infrared cameras in the simulator's towers. Actual ball backspin and side spin is captured by an overhead spin module which takes up to seventy photos of the ball. More importantly, the club capture module actually measures club path, face angle and impact position, and fills the data hole that doppler systems have (which unreliably estimate club path, and face angle by working backwards from club angle of attack and ball flight).
The use of infrared results in the accuracy offered by high speed photography but eliminates the annoyance of past flash systems. High definition simulation allows the golfer to see the shot he has just hit, whether it be a high draw, low cut, skyball, or the perfect shot.
The Flightscope uses doppler radar and camera Fusion Tracking to capture swing (speed and angle of attack) and ball (speed, back and side spin). The unit used outdoors can track golf shots over 400 yards. The addition of a tiny metal disc enables accurate data capture indoors which correlates very strongly with outdoor data. Besides being a great clubfitting tool, the Flightscope provides accurate gapping distance for each club in your bag, and is now used to measure ball skid and spin axis in our putter fittings.