Editor's Note: Golf Digest's Max Adler, a former college golfer at Washington and Lee University, is among the thousands of dreamers who hope to qualify for this June's U.S Open at Bethpage Black. In his online diary, he'll take readers through the highs and lows as he gets ready.
Ever wonder what beating balls off turf mats on concrete does to your clubs? With U.S. Open qualifying fast approaching, I decided it was worth taking a few days off from practicing to give my forged irons a check-up. I deposited my treasured Miura CB-301′s into the hands of Jacques Intriere, owner of Greenwich Golf Fitting Studio and the master craftsman who originally built the set for me a year and a half ago.
The damage wasn't too terrible — Jacques says "Miura forgings tend to really maintain their structure" — but it was still bad enough that I'm glad I took them in. The loft on my 3-iron had been bent to 21.5 degrees (half a degree weaker than what it is sup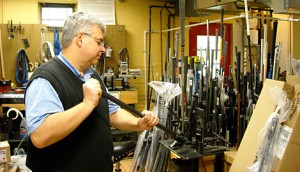 posed to be) and my 4-iron was a full degree weak at 25 degrees. That might not sound like a lot, but when you consider my five-iron is 27-degrees, that's cutting the distance gap between these two clubs by 33%. Also, the lie angle on my pitching wedge was a half-degree flat.
Good man that he is, Jacques bent the 3-iron back to 21-degrees, the 4-iron back to 24-degrees, and the lie of my PW up to 62.5.
In other equipment news, I just bought two fresh Callaway X-Forged wedges, 52- and 60-degrees. They're the same models I played with all last season so no new shapes to get used to, just spinnier grooves. The pin locations at the qualifying site will undoubtedly be tight, and it'd be stupid not to give myself every equipment advantage I can.
Read Max's complete Golf Digest article here.