Jacques makes Golf Digest Best 100 Clubfitters' List.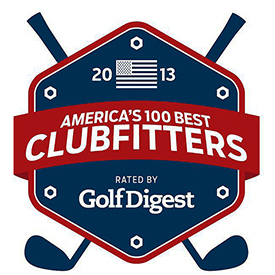 "I want to congratulate your facility for being named to Golf Digest's 2013 list of America's 100 Best Clubfitters. In the next few days, you should be receiving additional information from Golf Digest about the list and the use of the official Golf Digest America's 100 Best Clubfitters logo.
As I've said many times in print, I firmly believe that clubfitting is the great and largely untapped frontier for golf improvement for the vast majority of golfers. We have stressed in the magazine the value of fitting and we hope that our selection of the 100 Best Clubfitters helps get average golfers thinking more about clubfitting as a key element to their future enjoyment and progress in the game.
Certainly, the difficulty of determining this list was substantial, and we do not enter into any ranking without the utmost diligence. We contacted many industry sources for recommended and honored facilities, we polled our national panel of more than 1,000 course raters to determine facilities that were held in the highest regard and we considered more than a thousand facilities nationwide and reviewed final nomination forms from more than 300 facilities before we could determine a list.
The list, included on the attached file, is featured in a special Get Fit package of stories in our May issue, and our nationwide directory of more than a thousand fitting locations (with the 100 Best highlighted) will be live on our website within the next few days at the following URL: http://ww.golfdigest.com/golf-equipment/2013-05/700-clubfitters-listing
Please accept my congratulations again, and I wish you continued success in the future. If I can be of any assistance to you in the future, please don't hesitate to contact me, and I look forward to working with you on stories for Golf Digest in the coming years."
—
Mike Stachura
Senior Editor-Equipment
Golf Digest